Case Study: County Marquees
County Marquees has supplied marquee hire services to South Wales and West England for over 25 years. They came to us for a website redesign and we were happy to oblige!
They needed to showcase their primary service — marquee hire for weddings, events and corporate clients — as well as their event management/planning capabilities and furniture for hire. We suggested splitting it into defined sections with large pages that effectively act as microsites so that their clients can find out everything they need to know and contact them all from one page. We coupled that with their superb in-situ images to make a truly amazing visual display.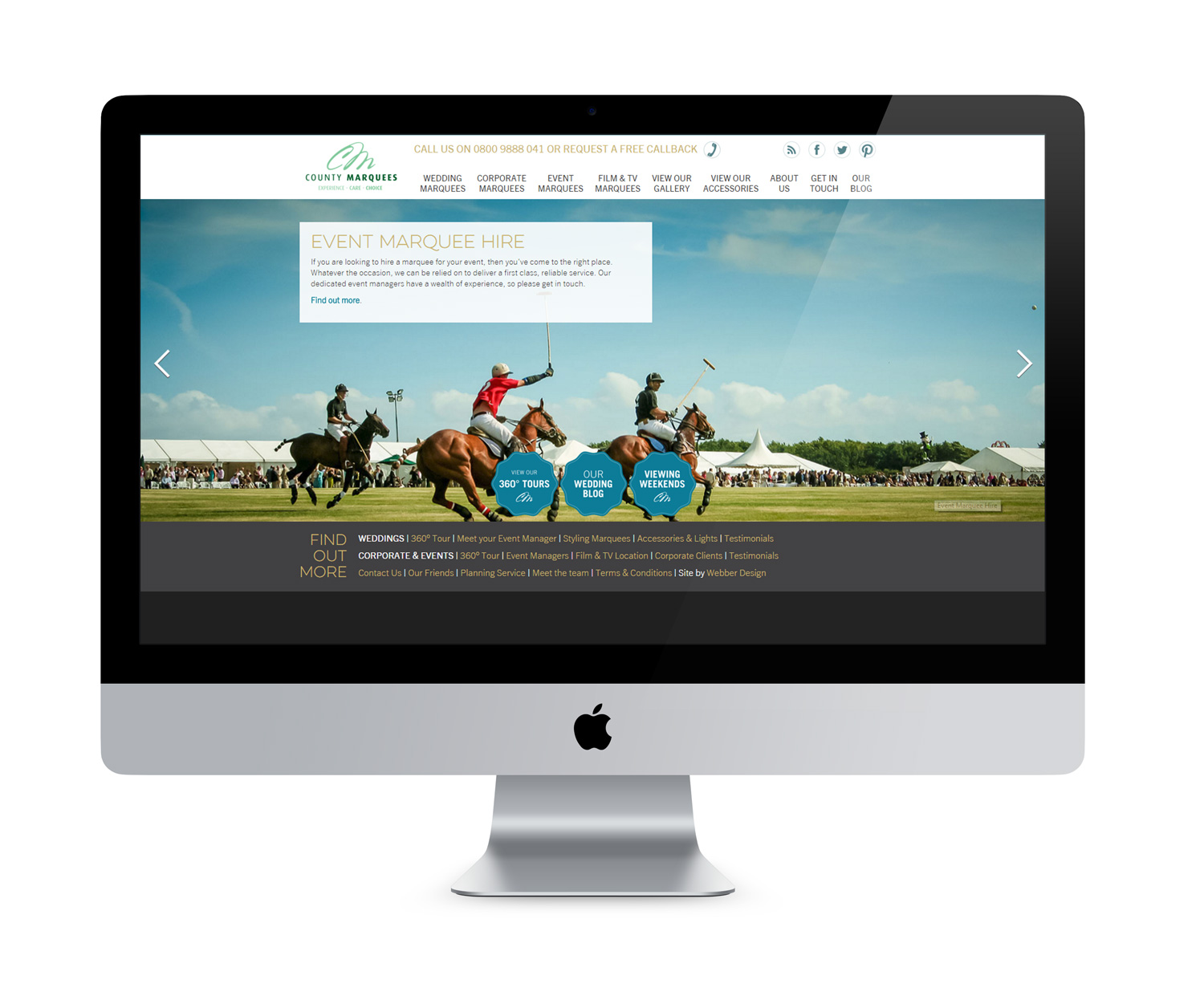 Late in 2014, Chepstow-based wedding & event marquee provider County Marquees approached us for a redesign of their website in order to properly promote their available wares and services, as well as expand their online presence to act as a hub of content, service information, booking and marketing. Naturally, we accepted!
What we did:
Full preliminary design mockups in Adobe Illustrator
Studio photoshoots and editing for all staff member profiles
Redrew their logo in vector (scalable) format
Completely hand-coded fully responsive HTML/CSS/jQuery website
Built a custom accessories/product rental feature that allows design and colour picking
Built an company directory that makes it easy to keep track of all client-recommended services relating to weddings/events
Implemented on our preferred Content Management System (CMS)
Maximised Search Engine Optimisation (SEO)
Created numerous flyer designs and brochures
Their key focus was on a modern approach — Responsive web design, clean and crisp with huge, stunning images from their wedding and corporate marquee portfolio. We needed something that worked well on both desktop and tablet devices. As such, we presented a myriad of selected designs, finally settling on a responsive one-page design with a difference: Multiple pages! Each primary feature section (Wedding and Corporate) features a slew of panels that act as their own page, complete with appropriate UX considerations and navigation and their own booking forms and calls to action. This kept the rest of the site light, free from excessive content while maintaining emphasis on their primary target audience's requirements.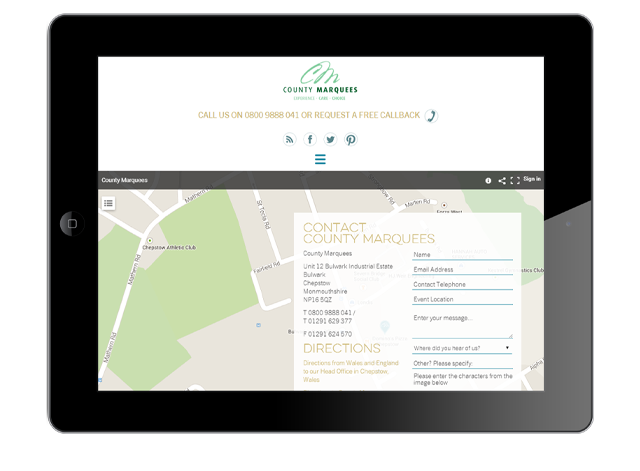 Using adaptive jQuery and the functionality of HTML and CSS3 we executed various important features, such as the marquee showcases, team profiles (they're a family-based business and offer a personal touch!) and the impressive (if we do say so ourselves) Accessories selection page.
An important part of promoting their services is the imagery — The vast possibilities of their bespoke services. As such, our design made sure to capitalise on their gorgeous photos from various events and weddings. We wanted to set the scene, a look-and-feel for clients to imagine themselves there.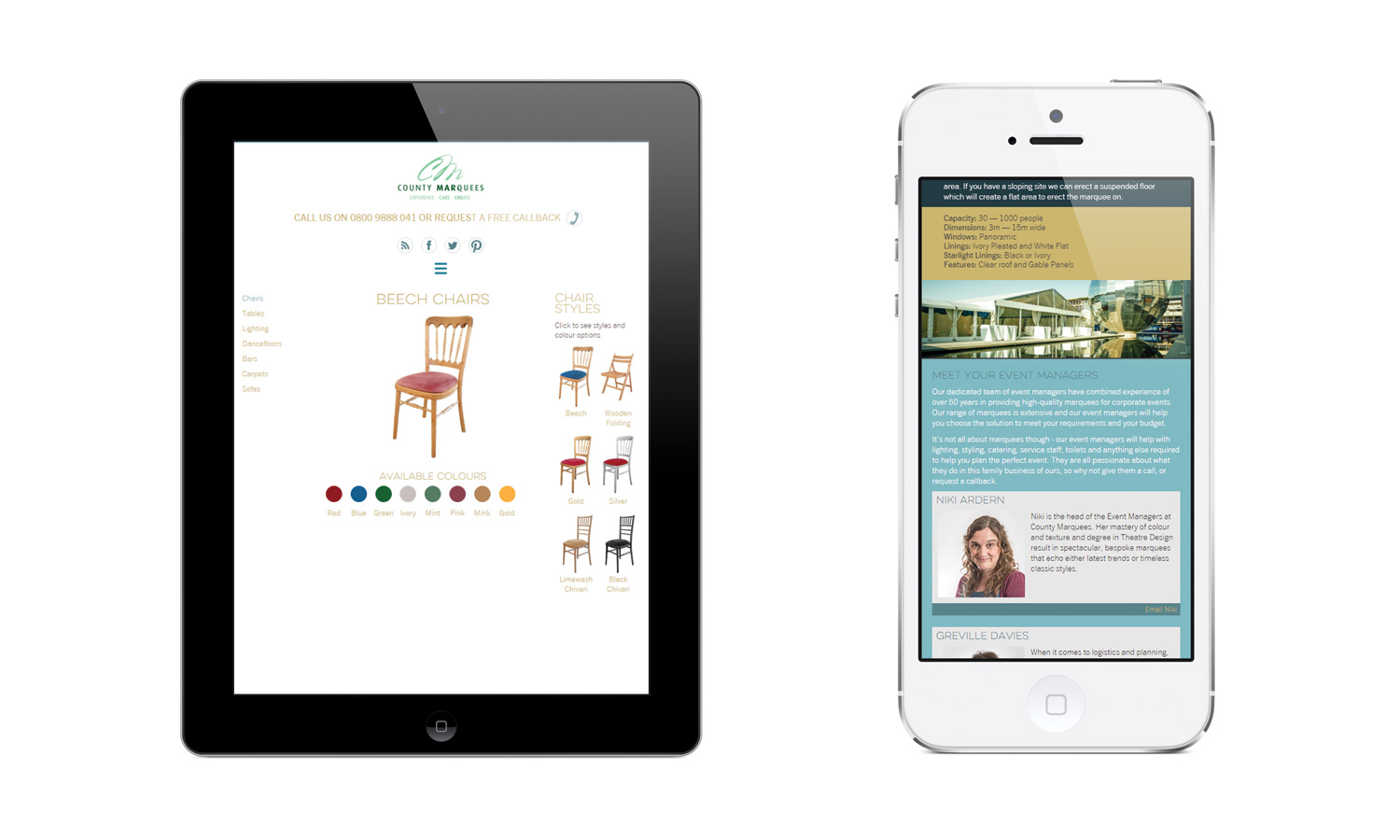 In addition to the furniture galleries, we also developed custom jQuery functionality to view their available furniture, allowing users to switch between chair styles and accessory colours. As with all of our newer websites, responsive design was key. The images are still impactful and all the content is neatly presented for mobile and tablet browsing.
As their site also features staff portfolios (it's largely a family business) with direct contact details, job title and descriptions. As we also do commercial photography, we set up our portable photography studio at their office and shot them on-site.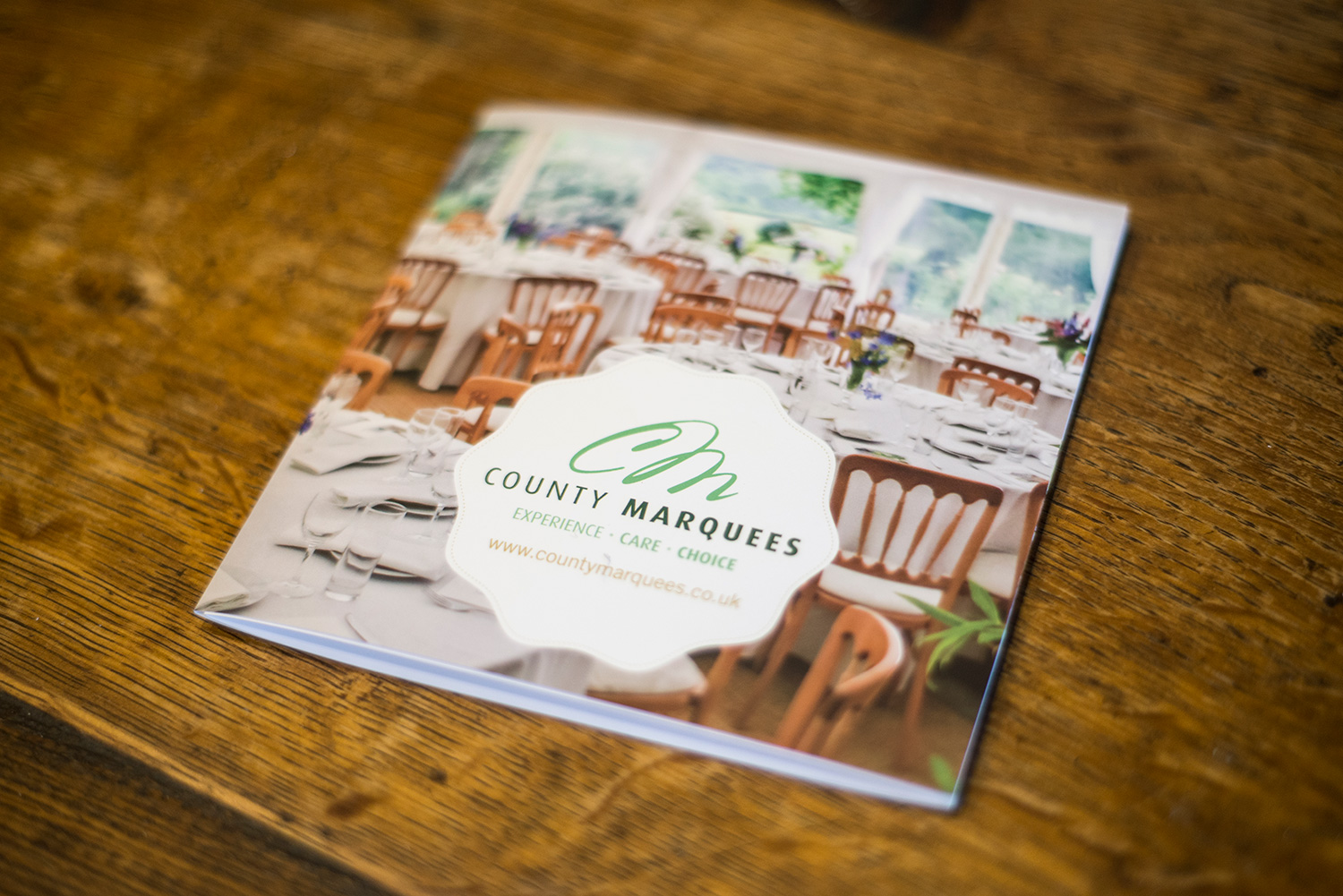 They were very happy with the outcome — So much so that they have returned to us for print work for various events and promotions! We created bespoke brochures and flyers for them, as well as being kept on contract to manage their website content, SEO (search engine optimisation) and Google AdWords campaigns.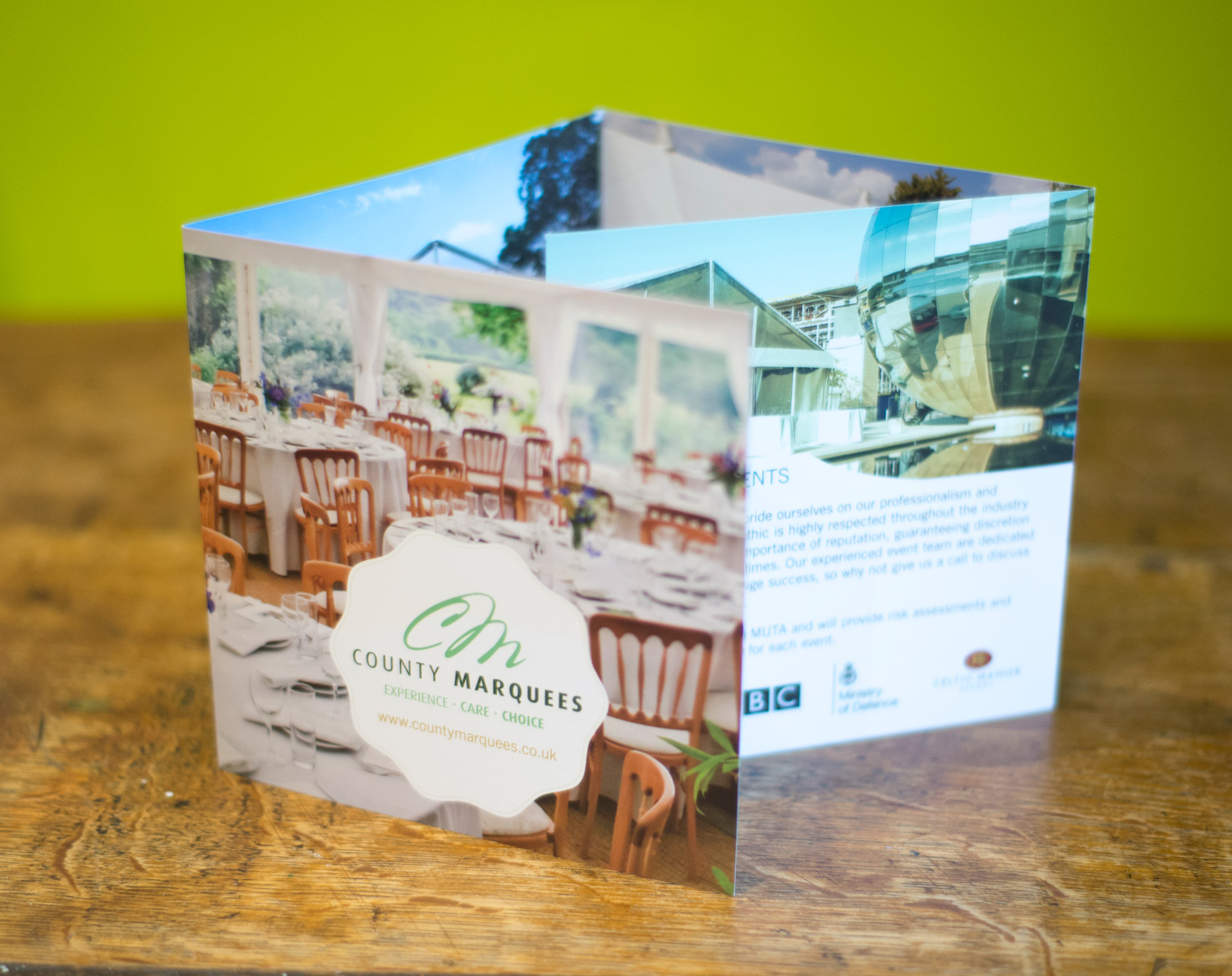 We love print design! County Marquees wanted something different for their mini-brochure, so we gave examples of different bespoke formats and suggested ones that fit their content and images best. They chose a large square format. Good choice!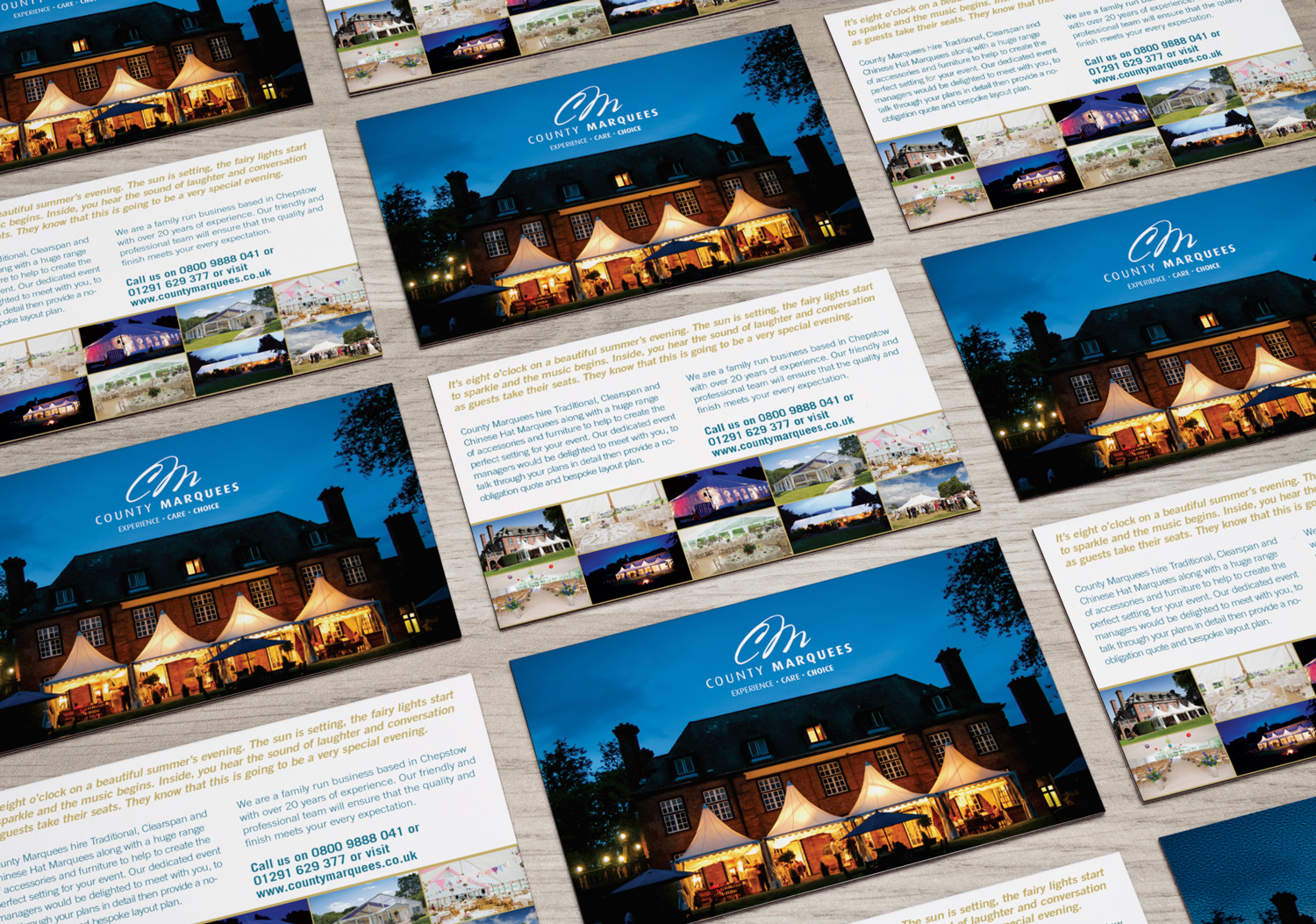 We have also produced numerous flyer designs for them, keeping their branding consistent throughout.