Case Study: Tomorrows' Leadership
This Leadership Conference was held near Brecon in South Wales in 2012. The conference brought together influential speakers on the subject of Leadership and Management from across the UK.
Webber Design came up with the original logo based on the client's 'triangular' brief which indicated that 3 distinct elements were central to the conference. We made a 2D then 3D version of the logo before building the conference website, banners, print ads, flyers, activity sheets, name tags and much more.
Rhys from Webber Design was also in attendance at the conference as official photographer.
The Client Said
"First of all, a very big thank you for all your help with the conference. It simply wouldn't have happened without you!"
Nic Shugar, Director, Tomorrows' Leadership
What We Did: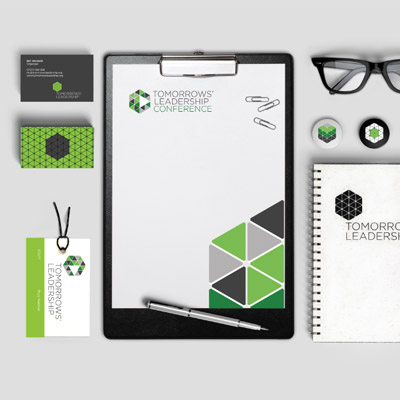 When the client briefed us on the conference he kept referring to a particular triangle shaped diagram which was at the heart of the theory behind 'Tomorrow's Leadership'. From this we developed the core logo, utilising a range of triangles (individual elements) coming together to form the whole, which was more than the sum of its parts.
We developed a flexible branding system based on the core logo, creating a range of versions of the logo to be used on stationery, signage, banners and the website. We also developed a three dimensional version of the logo which ended up being used as one of the conference activities — taking a flat shape made up of the logo triangles and building it into a 3d shape (tetrahedron).
We designed all of the conferences materials, from press and web ads promoting the conference to signage directing the travelling attendees. Stationery, flyers, roller banners, posters, name tags and conference documents were all designed by us.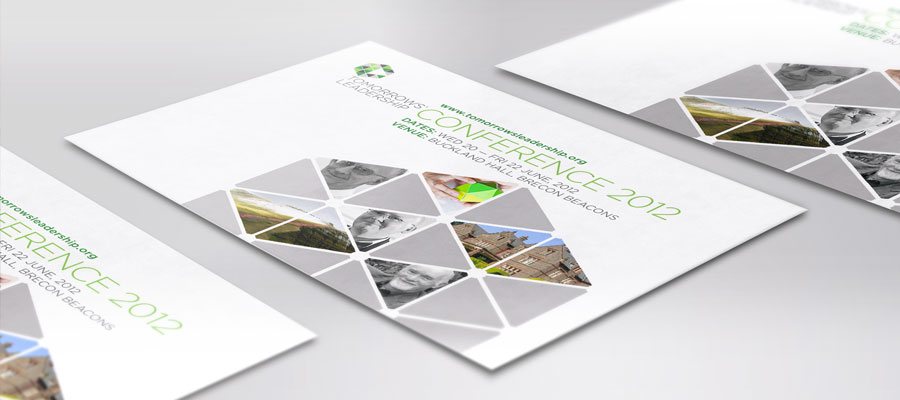 We designed the Tomorrow's Leadership website using CMSMS (Content Management System) and provided training for the client to enable them to update the site quickly and easily.



Examples (above) of the variations on the core logo to illustrate specific topics, central to the conference theory.



Rhys attended the three-day conference as official photographer, capturing the event for the client.